A special shape-memory gel cream that helps keep elasticity both inside and outside skin.
Ideal for reducing wrinkles, improving skin quality!
RONAGE EXTREME REVITALIZER GEL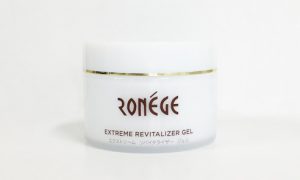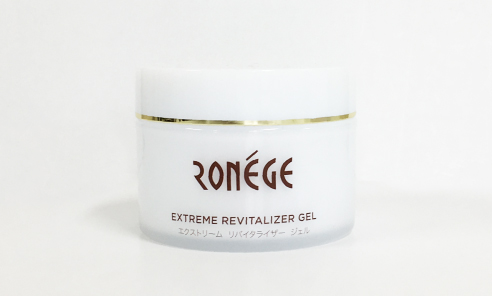 A special shape-memory gel cream that helps keep elasticity both inside and outside skin.

For short-term approach, a powerful wrinkle reducer-"Argireline" will act on fine lines and expression lines quickly. For its fast effect, Argireline is also called "Botox in a jar". For long-term approach, this gel is formulated with "Nahls Gen" which a forefront collagen booster developed by collaborative cooperation by [Kyoto university& Osaka City University], "Apple Stem Cell" which is an anti-aging agent awarded [Best Cosmetic Ingredient in Europe], and also Nobel Prize awarded element "EGF".
Those functional ingredients will not just act on outermost skin as normal products, but also restore elasticity and rebuild healthy skin beneath.
The texture of shape-memory gel will come back to original shape all the time, and feels long-lasting hydration and moisture.
Luxury aroma similar to prestigious perfume.
– Macromolecule Hyaluronic Acid…Create a rich hydrating veil over skin and provide essential moisturizing effect.
– Amur cork tree extract…Anti-inflammation ingredient that restores skin condition. Will show yellow color after formulation.
– Permeation type Vitamin C derivative…easier to permeate into skin with better absorption than normal Vitamin C. Whitening、anti-oxidation。
– Marine Placenta…An omnipotent anti-aging component that gives skin elasticity, moisture, glowing complexion and radiant looking.
– Baby collagen…collagen only made by baby skin. As age grows, baby collagen in adult skin declines gradually.
– Licorice extract & Dipotassium Glycyrrhizate…widely used in herbal medicine, natural anti-inflammation, whitening ingredient
– Japan cherry blossom extract…rejuvenate skin condition, and build vigorous skin texture.
– Kyoto sake extract…soften skin for a radiant, glowing complexion by yeast's power.
– Argireline…also called "Botox in a jar", very powerful anti-wrinkle agent.
– Nahls gen®…the forefront anti-aging element developed by collaboration of Kyoto university and Osaka research institute.
It acts on declining dermal fibroblast due to aging and boosts collagen production by 2-3 times.
– Apple stem cell extract…developed from a kind of apple which is famous as "an apple that never goes bad".
Will activate skin cells and restore turnover cycle, and stimulate new and healthy skin growth from internal side. (Aging skin will become rough and dark due to dead skin accumulation)
– EGF….a growth factor related to skin growth, regeneration and turnover normalization. Its discovery has been awarded Nobel Prize. Helps revitalize dull skin for a vibrant, healthy-looking glow and soft smooth texture.